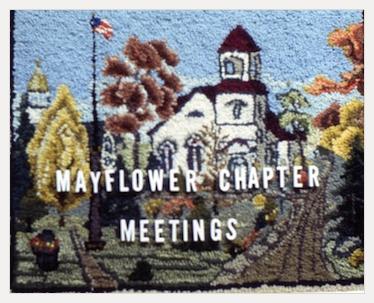 Meetings
All meeting times are from 10:00 am to 2:00 pm unless otherwise noted. Bring your lunch. Coffee and tea are provided at each meeting.
Remember to bring your completed projects for Show and Tell. The Treasure Table provides an opportunity for members to sell or donate items. Please indicate the price (if any) and your name if you would like to be paid for the item. It is expected that you will donate 10% of the proceeds to the Mayflower Chapter. Proceeds for unmarked items benefit the Mayflower Chapter.
Meetings are usually held at the St. Agnes Church at 186 Woburn Street, Reading, MA in the upper Parish Hall behind the church. When you turn into the church driveway, drive around the back of the church and down the slight slope (the parish building will be on your right). Please park on the lower part of the slope (upper parking area is for the church). The building has an elevator. Members should plan to bring their own lunch/snacks and are welcome to bring something to share with the group, should they choose. To minimize cleanup, we ask that you be considerate by removing leftover food you bring and picking up your rug scraps. Don't forget to "Bring a Mug to Save a Rug" or better yet, buy one of our new Mayflower travel mugs.
Cancellations: If in doubt about a cancellation, please call President, Ann Duggan (978) 658-5672 or Co-President, Lin Fields (978) 369-7166. If a program is cancelled due to bad weather or other unforeseen circumstance, we will try to reschedule it in the coming program year.