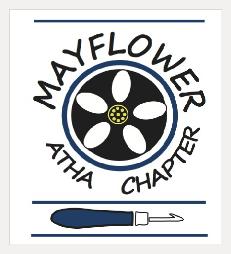 Welcome
The Mayflower Chapter of ATHA is in its 38th year. It was one of the first chapters to organize in April 1980. The chapter began with eleven members and has grown to over seventy members.
The Mayflower Chapter strives to develop and promote interest in rug hooking and to provide a means of exchange of ideas and information among members.
Monthly meetings are held from September to June and feature guest speakers, demonstrations, exhibits, and special events.
The annual Big Bee welcomes members from other chapters to a day of rug hooking, sharing, and fun.
ATHA
The Association of Traditional Hooking Artists, ATHA, is devoted to promoting interest in rug hooking and to provide a place to exchange ideas on an international level. It provides the resources for anyone who wants to learn to rug hook.
ATHA is for teachers, students, designers, and all those interested in sharing ideas and information with each other about rug hooking. Each member receives the newsletters, the opportunity to attend regional rug schools, and the use of a lending library.
Becoming a member of a local ATHA chapter provides each member with information and encouragement at regular meetings along with special programs, hook-ins and local rug shows. This organization gives you an opportunity to continue to learn and enhance your love for rug hooking.
Visit the ATHA website to join.